Our story began in the turbulent times of the Polish transformation. In 1991, Elżbieta and Jacek Boguccy opened a small electrical shop in Wieluń and named it after their daughter Ania.
The 1990s in Poland was the time of the birth of the free market, it often resulted in rapid and very dynamic changes. Building a company required consistency in action, determination, and at the same time great openness and willingness to constantly learn. If someone wanted to be in this business, they had to develop with it, follow the market. If they did not do it – they stayed in the tiny shop in which we started – says Mariusz Zychla – a Sales Specialist associated with the "ANIA" Electrical Center almost from the very beginning of its existence.
As early as in 1995, the second of the companies currently included in the holding, Production and Trade Company "JB", was established. Two years later, the structure of the "ANIA" Electrical Center, responsible for wholesale, was separated.
The turn of the century was a time of dynamic development of the company, implementation of the highest standards (confirmed, among others, with the ISO 9001 certificate) and consolidation of the market position. Infrastructure development was the natural consequence – including construction of a high-bay warehouse and commissioning of a modern office building at Traugutta in Wieluń. It became the heart of the company (offices and sales department were moved there from the building where Electromarket currently operates), as well as its showcase.
The second decade of our operation on the market was related to, inter alia, the gradual expansion of the scope of activity of the Production and Trade Company "JB". It moved to a modern production hall with an area of almost 1,350 m2. Being aware of changes in the labor market, we established a patronage class with an electrical technician profile.
The 25th anniversary was an opportunity for important image changes. Then the name Ania Holding, still in use today, was introduced to our communication and the slogan "We Have the Power, Multiplied" was introduced into our communication – it was done to best reflect the complexity and diversity of our activities.
The following years of our operation were related to, among others, a turn towards electromobility – engineers from "JB" designed innovative charging stations for electric cars. They are becoming more and more popular and win prizes. Our activities for the patronage class were awarded with the title of "Employer of Tomorrow". An important place in the offer of Elektromarket was taken by photovoltaics.
We entered the fourth decade of activity with a refreshed visual identification and the slogan "30 years of power". We are aware of the changes that have occurred on the market and we are constantly looking for new areas of activity. Therefore, we are expanding our business with the sale of electric vehicle charging stations and photovoltaic materials. We focus on ecology and renewable energy.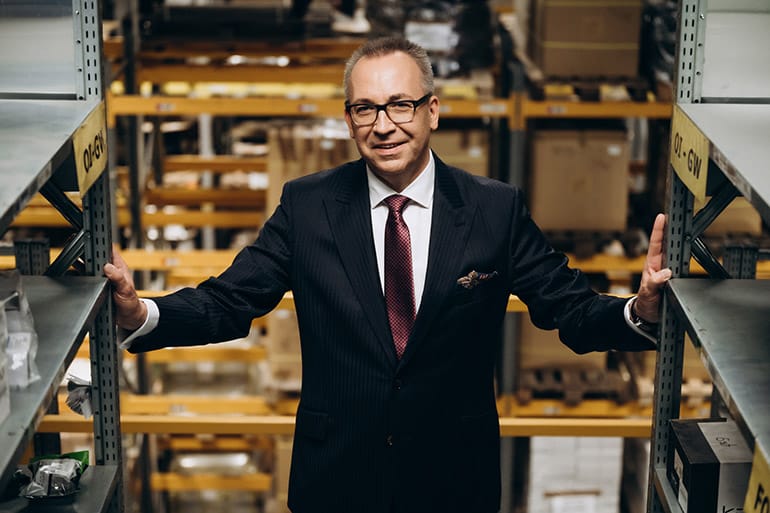 Jacek Bogucki – Chairman of the Board